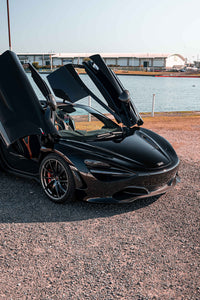 Product Testing on a McLaren 720S
The McLaren 720S is a force of nature. Its 4.0L twin-turbocharged V8 delivers 720PS and 770Nm of torque. 0-60mph takes just 2.8 seconds. And 124mph arrives in an astonishing 7.8 seconds. But the 720S is all about the way you can use power. The balance. Accessibility. Feedback. Finesse. Breath-taking figures can only tell you so much…
We decided that there was simply no other car that we could install a Magna Plate kit to, to convince you guys this kit works!
We took to the roads in Southport, England to test the stability of our Multi Plate Kit. Southport has everything from linking high speed motorways to bumpy costal roads.
We decided to use our Multi Plate kit on the McLaren 720S due to the curved geometry of the vehicle, this kit allowed the number plate to flex to the shape of the streamlined bumper. 
Thank you to the guys over at Travis Autos Repair Centre in St.Helens for helping with the install process, without you guys we would have been stuck! When you're faced with dismantling a £150,000+ supercar it is definitely worth having professionals on hand!
Checkout the video we made over on our YouTube channel.
---